Are you ready to make your birthday celebration one to remember? There is no need to look any further! Chef Patrick's Kitchen specializes in creating amazing moments and making your dreams come true. Our team of dedicated event planners is here to make your big day one to remember.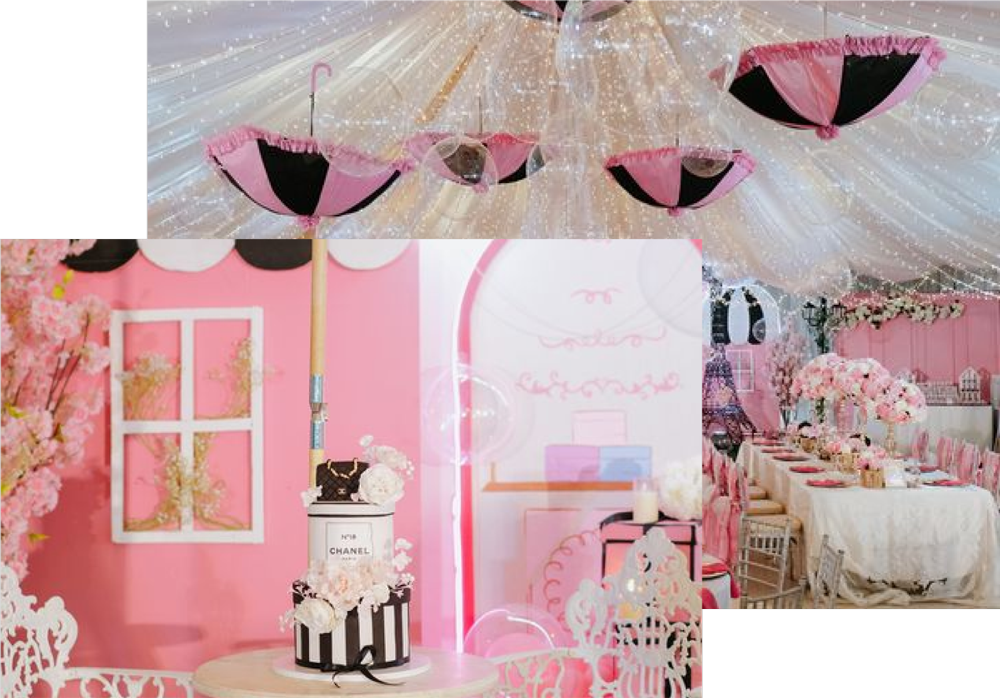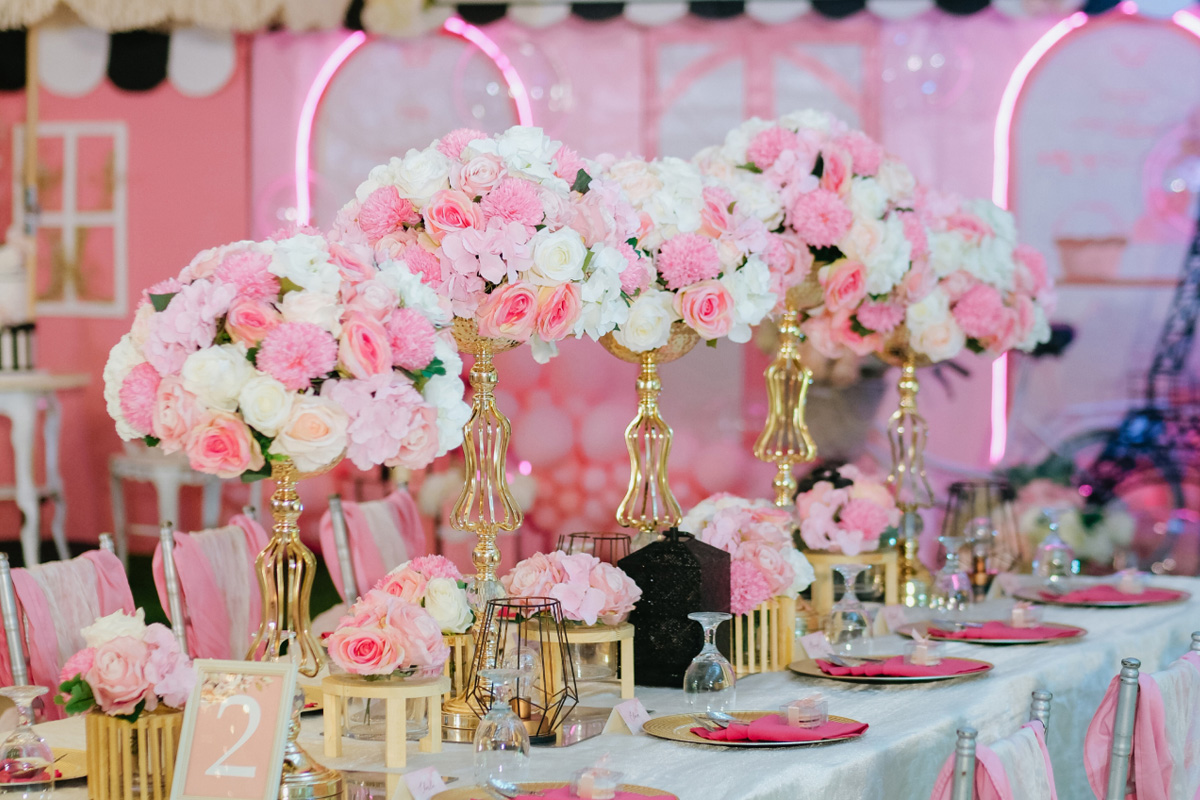 With a team of passionate and skilled culinary experts, we take pride in curating an array of mouthwatering dishes that cater to every palate and dietary preference. From savory bites that tantalize your taste buds to delightful desserts that add a sweet touch to the occasion, we have every aspect of your birthday feast covered.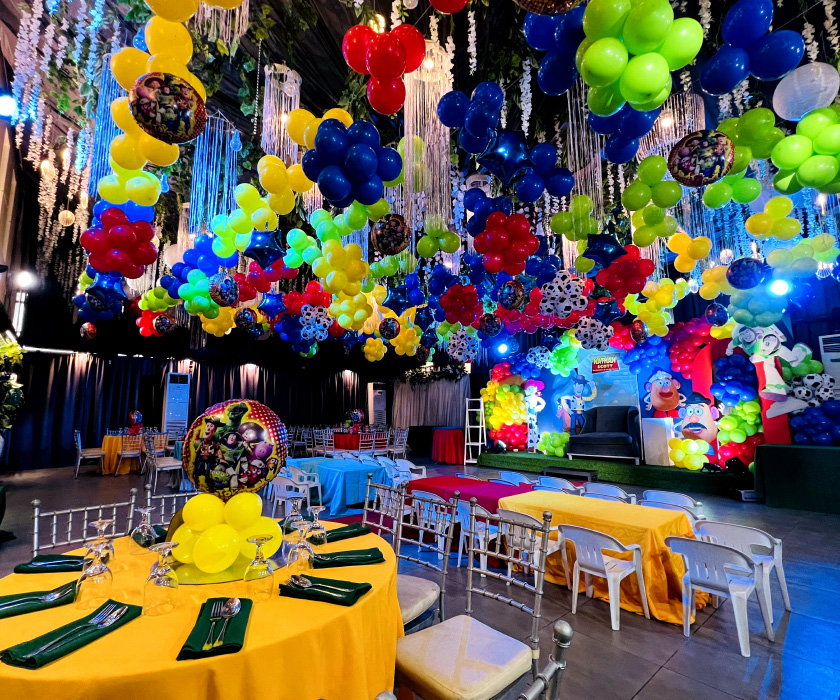 Plan an unforgettable birthday for your kids in thematic party of your choice.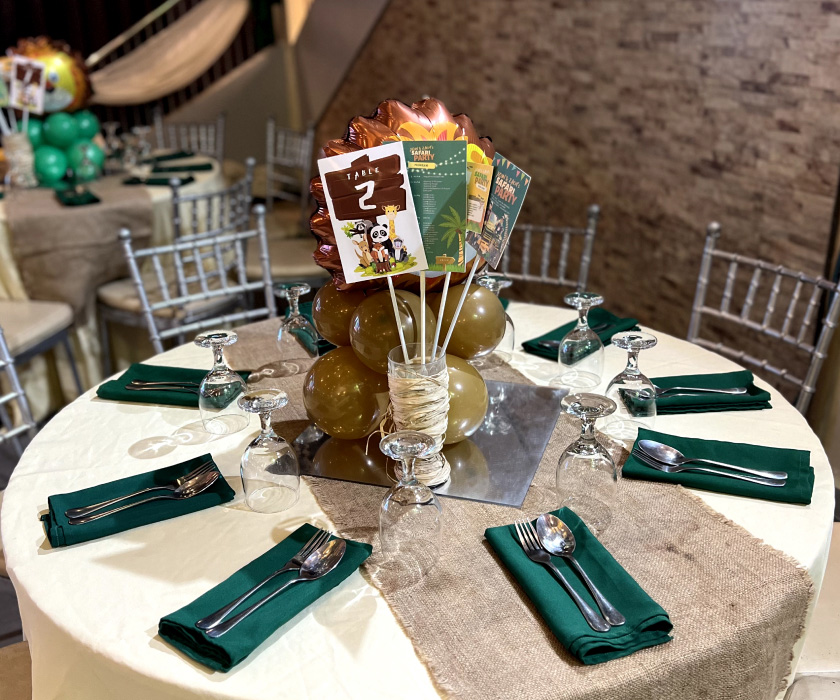 Fun-filled kiddie party package that will awe your guests.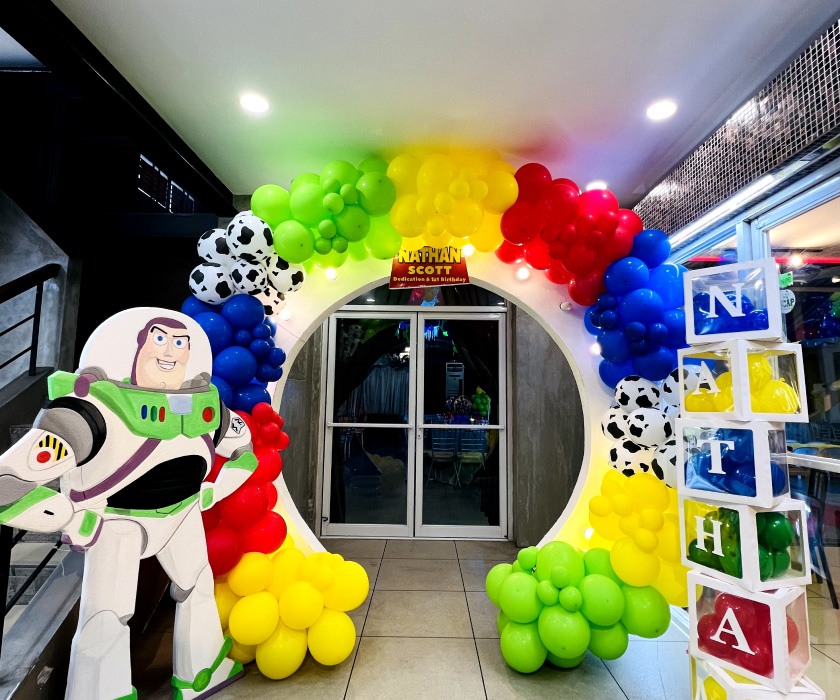 A unique and memorable way to celebrate your child's birthday!
Inclusions
Venue for 4 hours party duration with air-conditioned
Basic lights and sound system with projector and screen
Choices of food – manage the buffet
Elegant Tiffany Chairs with cushion and ribbon
Floor length table cloth and linens depends on color motifs
Complete dining set-up and equipment
Buffet table and decors
Use of roll-top chafing dishes
Menu tags and table numbers
Dressed up table for cakes, souvenirs, gifts, registration
Backdrop styling and table centerpieces

Basic Backdrop or 9×12 ledwall

Elegant couch for the celebrant
Well-trained and uniformed waiters
Scheduled food tasting for 2

(Tuesday and Wednesday, 11am – 4pm)
Freebies
Photo booth for 2 hours unlimited
Use of the guest lounge for 6 hours
Access in photo studio for 3 hours

Overtime charge of the venue / hour:

CPK Main Hall
CPK Hall B
Dine and Cheers 1 or 2
Dine and Cheers 1 & 2
Terms of Payment
Reservation fee
2nd Payment: 20% upon signing of contract
3rd Payment: 70% – 2 weeks before the event
4th Payment: Full payment a week before the event
Mode of Payment
Cash or Bank transfer
Card (3months to 12months Installment)
Check Payment (Dated 7 days before the event)
Notes
Inclusive of Service Charge
Subject to 12% VAT
Lechon Corkage with Station
Photo and Video Electricity
Basic Electricity Charge
Outside Food Corkage
Outside Suppliers Corkage
Lights and Sounds System
LED Wall
Stylist and Party Package
Cancellation Penalties
Reservation fee is non-refundable / non-cancellable / not transferable or not consumable to food orders, however, it is applicable should the event be rescheduled

More than a month of rescheduled is not allowed unless with valid reason and proper documentation

Cancellation Terms:

4-3 Months – 25% forfeited

3-1 Month – 50% forfeited

Less than 1 Month – 100% forfeited

Clients are allowed to hold tentative (pencil) bookings for 3 days, after which, the next party on wait list shall be given priority

Prices are subject to change without prior notice
Kiddie Styling Inclusions
Basic
Backdrop with 2D Characters
Entrance Arc with Celebrant Name
Balloon Garland
Par Lights
10pcs Centerpieces
10pcs Mylars
400pcs Ceiling Balloons
Upgraded
Upgraded Backdrop with 2D & 3D Characters
Lighted Entrance Arc with Celebrant Name
Full Balloon Garland
Par Lights
10pcs Centerpieces
30pcs Mylars
Up to 1000pcs Ceiling Balloons
Magician Host
Face Painting for 3 hours
LED Wall
Side Panel on Ledwall
Entrance Arc with Celebrant Name
Balloon Garland
Par Lights
10pcs Centerpieces
10pcs Mylars
Up to 400pcs Ceiling Balloons
Magician Host
Face Painting for 3 hours
Other Services Offers
Mascot with 3 appearances
Bubble Show (20 minutes)
Food Carts (2 Kinds for 100pax)

Choices – fries, pearl shake, corn in a cup, fried siomai, ice scramble, hotdog, mixed balls
* Customized Kiddie Styling and Package are subject to price quotation
Food Choices
(Choose one per category)
Pork
Sous Roast Porkloin with Vegetable and Mushroom Gravy
Grilled Porkloin with Green Beans and Mushroom in Chimichurri
Pork Scalloponi Parmigiana
Pork Scallopini with French Beans in Creamy Paprika Sauce
Sweet and Sour Pork
Braised Patatim with Cuapao
Salt and Pepper Spareribs
Crispy Pork Bagnet in Kare-Kare Sauce with Bagoong
Chicken
Mandarin Chicken
Buttered Chicken
Chicken Karaage
Chicken Ala King
Cordon Bleu in Mornay Sauce
Chef Patrick's Roasted Chicken in Liver Sauce
Grilled Chicken in Teriyaki Sauce
Grilled Chicken in Chimichurri
Fish / Seafood
Fish Fillet in Pesto Cream Sauce
Cheese & Butter Fish Fillet
Sweet and Sour Fish Fillet
Panko Crusted Fish Fillet with Tartar Sauce
Panko Crusted Fish Fillet with Tomato Salsa
Mixed Seafood Hotpot
Salt and Pepper Squid
Salted Egg Squid
Mixed Seafood Teppanyaki Style
Noodles
Chef Patrick's Birthday Noodles
Chef Patrick's Cha Misua
Korean Chapchae
Grilled Chicken Penne Pasta in Pesto Sauce
Creamy Salmon Penne Pasta
Beef Sate Noodles
Shrimp Penne Pasta Vodka
Creamy Carbonara
Meaty Bolognese Spaghetti
Pinoy Style Spaghetti
Vegetables
Vegetable Medley with Shrimps
Buttered Vegetables
Chopsuey
Stir Fry Local Scallops with Broccoli
Stir Fry Baguio Beans with Chicken
Lumpiang Hubad with Peanut Sauce
3 Kinds of Mushroom with Broccoli
Dessert
Buko Pandan
Almond Lychee
Revel Bars
Assorted Pastries
Assorted Kakanin
Brownies
Carrot Mini Cupcakes
Banana Mini Cupcakes
Coffee Jelly
Chocolate Chip Cookies
Black Gulaman Lychee
Refillable Chef Pat's Signature
Iced Tea and Drinking Water
(House Blend Iced Tea, Blue Lemonade, Cucumber Lemonade)
Other Offers
Photo and Video
Photo Studio
Grazing Table
Cake
Hotel Rooms
Hosting and Coordinationn
Mobile Bar
* Customized and Upgraded Foods are subjects to price quotation
Set A
Carbonara / Pinoy Style Spaghetti
Hotdog on Stick / Pork Barbeque / Lumpia Shanghai
Chicken Nuggets / Chicken Lollipops / Parmesan Chicken Wings
2 Desserts

Assorted Pastries / Brownies / Blondies

Iced tea or Orange juice
Set B
Macaroni and Cheese / Baked Macaroni
Burger Steak with Mushroom Sauce / Swedish Meatballs with Creamy Herb Sauce
Buttered Chicken / Chicken Nuggets
Steamed Rice
2 Desserts

Assorted Pastries / Brownies / Blondies

Iced tea or Orange juice
Set C
Beefy Lasagna
Hotdogs with Mallows
Grilled Ham and Cheese / Mini Burgers with Cheese
Chicken Nuggets / Chicken Lollipops / Parmesan Chicken Wings
Assorted Mallows
Iced tea or Orange juice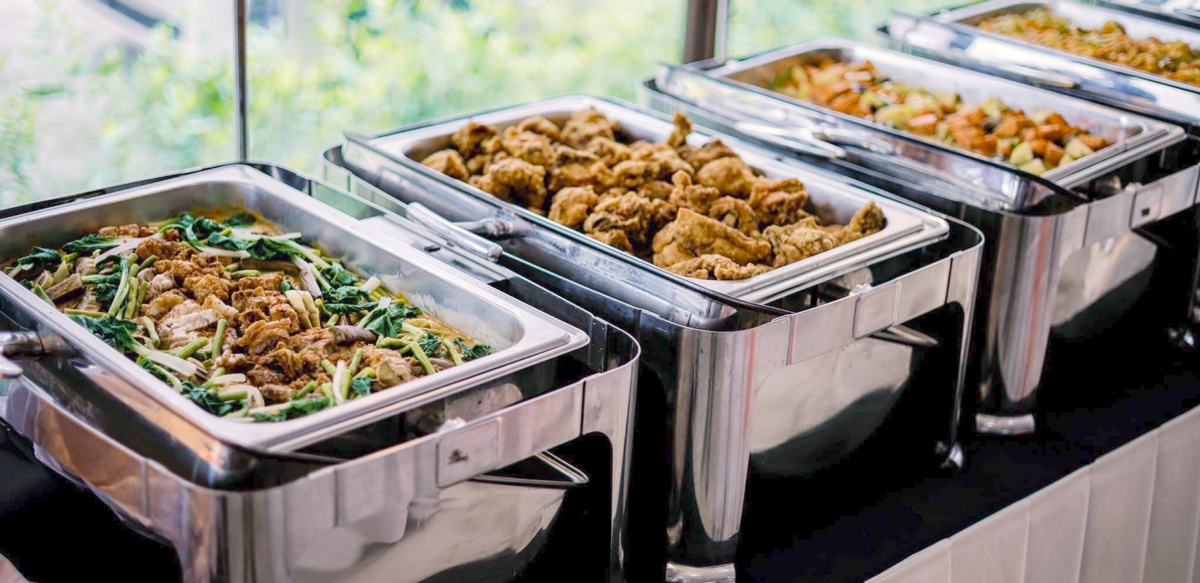 Don't settle for an ordinary birthday when you may have an incredible one! Trust us to make your concept a reality and elevate the celebration to new heights. Contact us now to discuss how we can help and let us create an exclusive deal just for you.